Additional morphology codes have been added to cover morphology codes of the SBLGNT Bible.
If you use the SBLGNT with Strong's, Lemma, and Morphology, please update your copy of RMAC to 1.2
Back to News

International Standard Version Bible (ISV)
A Totally New, "Literal and Idiomatic" Translation, praised for its Accuracy, Clarity and Readability
Stay tuned!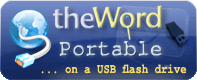 Useful links
Email updates
Enter your email to be notified for updates on program and modules
Is it safe to give you my email?
Latest version
The latest version of theWord is 5.0.0.1450.
Find out how you can check what version you are using
Random verse
Verily, verily, I say unto you, that he that hears my word, and believes him that has sent me, has life eternal, and does not come into judgment, but is passed out of death into life. (John 5:24)