Additional morphology codes have been added to cover morphology codes of the SBLGNT Bible.
If you use the SBLGNT with Strong's, Lemma, and Morphology, please update your copy of RMAC to 1.2
Back to News

101 More Hymn Stories
Get the story behind your favorite Hymns and their music score!
Stay tuned!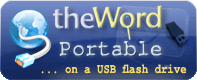 Useful links
Email updates
Enter your email to be notified for updates on program and modules
Is it safe to give you my email?
Latest version
The latest version of theWord is 5.0.0.1450.
Find out how you can check what version you are using
Random verse
for Christ indeed has once suffered for sins, [the] just for [the] unjust, that he might bring us to God; (1 Peter 3:18a)