Corrupting the Image Angels, Aliens, and the Antichrist Revealed.
The prophecy of Genesis 3:15 states the serpent will one day mix his seed with humanity as a counterfeit of the Messiah. Jesus told us that the last days will be like the days of Noah when fallen angels mixed their seed with humanity. In the Book of Daniel we read that "they" will again mingle with the seed of men. That day of fulfillment is now!
A thrilling read for the detective-at-heart!
William C. Harvey, M.S., Author
Absolutely astonishing! Corrupting the Image provides a biblical, scientific, and enlightening way of looking at the "big picture" of the end times that is so logical it will blow your mind.
Dr Scott A. Collie D.C.
A thrilling read! Douglas brings together, perhaps for the first time ever, a comprehensive explanation of how the Antichrist will be a genetic counterfeit of the virgin birth. This book is at the cutting edge of research and is written so that the average person can grasp the sinister plan that is unfolding before our very eyes.
Dr. Kenton Beshore, President of World Bible Society
Startling! This book takes what the Bible says and magnifies it so you can see clearly how genetics is vital to opening the door for the return of the Nephilim. No matter where you stand on biblical eschatology this book will affect you. Read it.
Dr. J. David Lehman, Bible Researcher and Lecturer
Back to News

Stay tuned!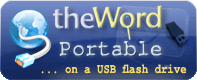 Useful links
Email updates
Enter your email to be notified for updates on program and modules
Is it safe to give you my email?
Latest version
The latest version of theWord is 5.0.0.1450.
Find out how you can check what version you are using
Random verse
Verily, verily, I say unto you, that he that hears my word, and believes him that has sent me, has life eternal, and does not come into judgment, but is passed out of death into life. (John 5:24)