New Testament Message/Bible Study Preparation Guide (NT-BSG) & Training Videos
Do you feel like you need better structure when putting together a Bible study?
Do you want to make sure you're getting as much as possible from your message preparation?
Or maybe you need a fresh perspective on your study of the Bible.
Here's a 12 video training guide and book module to help you do just that! These videos and guide will take you through many resources in theWord in order to help you build a message/Bible study.
Product Highlights:
Uses resources in theWord
Links to additional resources for theWord
Practical and tailored to Biblical Greek Studies or to English only studies.
Training series duration: 165 minutes
You will find here the first training video for a preview.
Back to News

The Bible Panorama (revised 2nd edition)
Surveying the scenery of Scripture; Each chapter of each book of the Bible plainly summarised and explained
Stay tuned!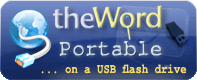 Useful links
Email updates
Enter your email to be notified for updates on program and modules
Is it safe to give you my email?
Latest version
The latest version of theWord is 5.0.0.1450.
Find out how you can check what version you are using
Random verse
and walk in love, even as the Christ loved us, and delivered himself up for us, an offering and sacrifice to God for a sweet-smelling savour. (Ephesians 5:2)