We have added a new section to the website—Tutorials!
You can find this section in the main menu under the Help menu. Also, we have added a new The Word skin tutorial to download. This tutorial describes in detail how to make a skin for The Word. More tutorials will be added at this page in the future. You can go there now.
Back to News

Theological Wordbook of the Old Testament
Extensive, scholarly discussion of every Hebrew word of theological significance in the Old Testament. Keyed to Strong's Concordance.
Stay tuned!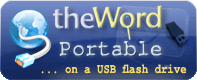 Useful links
Email updates
Enter your email to be notified for updates on program and modules
Is it safe to give you my email?
Latest version
The latest version of theWord is 5.0.0.1450.
Find out how you can check what version you are using
Random verse
Herein as to us has been manifested the love of God, that God has sent his only begotten Son into the world, that we might live through him. Herein is love, not that we loved God, but that he loved us, and sent his Son a propitiation for our sins. (I John 4:9,10)