We have added a new section to the website—Tutorials!
You can find this section in the main menu under the Help menu. Also, we have added a new The Word skin tutorial to download. This tutorial describes in detail how to make a skin for The Word. More tutorials will be added at this page in the future. You can go there now.
Back to News

Eerdmans Dictionary of the Bible
Nearly
5,000 articles
written by
600 first-rate Bible authorities
thoroughly explaining books, persons, places and significant terms of the Bible
Stay tuned!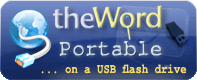 Useful links
Email updates
Enter your email to be notified for updates on program and modules
Is it safe to give you my email?
Latest version
The latest version of theWord is 5.0.0.1450.
Find out how you can check what version you are using
Random verse
but God, being rich in mercy, because of his great love wherewith he loved us, (we too being dead in offences,) has quickened us with the Christ, (ye are saved by grace,) and has raised [us] up together, and has made [us] sit down together in the heavenlies in Christ Jesus; (Ephesians 2:4-6)