Messages from J. Vernon McGee, put into one beautifully formatted hybrid book module.
Features include: Introductory sections Detailed outlines Paragraph-by-paragraph discussion Dr. McGee's personal observations and experiences
Vol. 1 Genesis – Deuteronomy (Original size 640 pgs)
Vol. 2 Joshua – Psalms (Original size 896 pgs)
Vol. 3 Proverbs – Malachi (Original size 1040 pgs)
Vol. 4 Matthew – Romans (Original size 768 pgs)
Vol. 5 1Corinthians – Revelation (Original size 1080 pgs) Total 4424 pgs
Specifically writing to meet the needs of lay Bible readers as well as clergy, Dr. McGee deliberately avoids 'the straitjacket of printed prose and lofty verbiage.' His plain writing and lively approach make biblical truth understandable and Bible study more enjoyable. An introductory section and a detailed outline preface the discussion of each book. Each chapter is examined through a careful, paragraph-by-paragraph discussion of all significant verses.
Radio messages from J. Vernon McGee delighted and enthralled listeners for years with simple, straightforward language and clear understanding of the Scripture. Now enjoy his personable, yet scholarly, style in this 60-volume set of commentaries that takes you from Genesis to Revelation with new understanding and insight. Each volume includes introductory sections, detailed outlines and a thorough, paragraph-by-paragraph discussion of the text. A great choice for pastors – and even better choice for the average Bible reader and student!
Back to News

Stay tuned!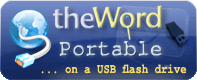 Useful links
Email updates
Enter your email to be notified for updates on program and modules
Is it safe to give you my email?
Latest version
The latest version of theWord is 5.0.0.1450.
Find out how you can check what version you are using
Random verse
I say unto you, that thus there shall be joy in heaven for one repenting sinner, [more] than for ninety and nine righteous who have no need of repentance. (Luke 15:7)