Gesenius' Hebrew Grammar
Gesenius' Hebrew Grammar is one of the definitive reference works for the study of Biblical Hebrew.
Back to News

Believer's Bible Commentary
Make Bible study a part of your daily life with the thorough yet easy-to-use Believer's Bible
Stay tuned!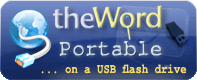 Useful links
Email updates
Enter your email to be notified for updates on program and modules
Is it safe to give you my email?
Latest version
The latest version of theWord is 5.0.0.1450.
Find out how you can check what version you are using
Random verse
So if any one [be] in Christ, [there is] a new creation; the old things have passed away; behold all things have become new: (2 Corinthians 5:17)