Gesenius' Hebrew Grammar
Gesenius' Hebrew Grammar is one of the definitive reference works for the study of Biblical Hebrew.
Back to News

New International Version 2011
Includes more than 110,000 cross-references, translator's notes, passage headings, parallel passages, word of Jesus in red, poetry and prose text indentation.
Stay tuned!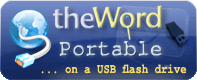 Useful links
Email updates
Enter your email to be notified for updates on program and modules
Is it safe to give you my email?
Latest version
The latest version of theWord is 5.0.0.1450.
Find out how you can check what version you are using
Random verse
For I delivered to you, in the first place, what also I had received, that Christ died for our sins, according to the scriptures; and that he was buried; and that he was raised the third day, according to the scriptures; (1 Corinthians 15:3,4)