Thayer's Greek-English Lexicon
theWord brings you this full version of Thayer's, with the addition of Strong's numbers, and retaining Greek subject words, so you have the best of both ways of looking up information.
Back to News

New International Version 2011
Includes more than 110,000 cross-references, translator's notes, passage headings, parallel passages, word of Jesus in red, poetry and prose text indentation.
Stay tuned!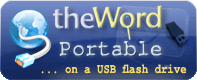 Useful links
Email updates
Enter your email to be notified for updates on program and modules
Is it safe to give you my email?
Latest version
The latest version of theWord is 5.0.0.1450.
Find out how you can check what version you are using
Random verse
for Christ indeed has once suffered for sins, [the] just for [the] unjust, that he might bring us to God; (1 Peter 3:18a)