The CSB Worldview Study Bible
The CSB Worldview Study Bible brings a fresh new approach to the study of Scripture with a focus on how the truths of the Bible impact one's worldview. Features include extensive worldview study notes and articles by notable Christian scholars (In an accompanying Hybrid-Book module, with synchronization to Bible verses). Guided by general editors David S. Dockery and Trevin K. Wax, the CSB Worldview Study Bible is an invaluable resource and study tool that will help you to discuss, defend, and clearly share with others the truth, hope, and practical compatibility of Christianity in everyday life.
theWord special features included in Bible:
Words of Christ in red (toggle key J)
Popup footnotes (toggle key F)
Verse per line and Poetry/Paragraph format (toggle key P)
Headings (toggle key H)
Commentary Links in Bible View, linked to Hybrid Notes Module (toggle key L)
Old Testament quotes in bold (toggle key O)
Cross-references built into Bible text. (toggle key X)
Linked to accompanying Hybrid Notes Module via verse synchronization.
Back to News

Stay tuned!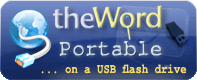 Useful links
Email updates
Enter your email to be notified for updates on program and modules
Is it safe to give you my email?
Latest version
The latest version of theWord is 5.0.0.1450.
Find out how you can check what version you are using
Random verse
For let this mind be in you which [was] also in Christ Jesus; who, subsisting in the form of God, did not esteem it an object of rapine to be on an equality with God; but emptied himself, taking a bondman's form, taking his place in [the] likeness of men; and having been found in figure as a man, humbled himself, becoming obedient even unto death, and [that the] death of [the] cross (Philippians 2:5-8)