New translations for the program (interface) have been added for the
Polish
and
Dutch
languages. Also several of the existing language files were updated.
To download program translations go here.
Saturday, 03 October 2009
Back to News

Stay tuned!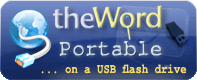 Useful links
Email updates
Enter your email to be notified for updates on program and modules
Is it safe to give you my email?
Latest version
The latest version of theWord is 5.0.0.1450.
Find out how you can check what version you are using
Random verse
I am the vine, ye [are] the branches. He that abides in me and I in him, *he* bears much fruit; for without me ye can do nothing. (John 15:5)