Die Lutherbibel 2017 ist der zum Gebrauch empfohlene Bibeltext der Evangelischen Kirche in Deutschland (EKD). Die klassische deutsche Bibelübersetzung ist nach wie vor die in Deutschland am weitesten verbreitete.
Weitere Informationen und Kauf http://www.thewordbooks.com/index.php/product/lutherbibel-2017-mit-apokryphen
theWord Besonderheiten in der Bibel enthalten:
Vers pro Zeile und Gedicht- / Absatzformat (Umschalttaste P)
Überschriften (Umschalttaste H)
In den Bibeltext eingebaute Querverweise. (Umschalttaste X)
Verbunden mit dem zugehörigen Hybrid-Apokryphen-Modul über Vers-Synchronisation.
theWord special features included in Bible:
Popup footnotes (toggle key F)
Verse per line and Poetry/Paragraph format (toggle key P)
Headings (toggle key H) Cross-references built into Bible text. (toggle key X)
Linked to accompanying Hybrid Apocrypha Module via verse synchronization.
Back to News

The Message
The Message preserves the authentic, earthy flavor and the expressive character of the Bible's best-loved books.
Stay tuned!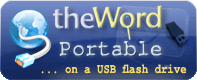 Useful links
Email updates
Enter your email to be notified for updates on program and modules
Is it safe to give you my email?
Latest version
The latest version of theWord is 5.0.0.1450.
Find out how you can check what version you are using
Random verse
Herein as to us has been manifested the love of God, that God has sent his only begotten Son into the world, that we might live through him. Herein is love, not that we loved God, but that he loved us, and sent his Son a propitiation for our sins. (I John 4:9,10)