For the latest modules release go to Latest Releases
Or browse our site theWordBooks
Also from within theWord, main menu, click on Add Titles, and select the Official Repository (top right).
Back to News

Believer's Bible Commentary
Make Bible study a part of your daily life with the thorough yet easy-to-use Believer's Bible
Stay tuned!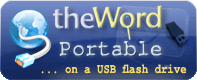 Useful links
Email updates
Enter your email to be notified for updates on program and modules
Is it safe to give you my email?
Latest version
The latest version of theWord is 5.0.0.1450.
Find out how you can check what version you are using
Random verse
for Christ indeed has once suffered for sins, [the] just for [the] unjust, that he might bring us to God; (1 Peter 3:18a)