For the latest modules release go to Latest Releases
Or browse our site theWordBooks
Also from within theWord, main menu, click on Add Titles, and select the Official Repository (top right).
Back to News

Stay tuned!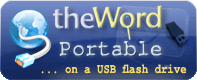 Useful links
Email updates
Enter your email to be notified for updates on program and modules
Is it safe to give you my email?
Latest version
The latest version of theWord is 6.0.0.1527.
Find out how you can check what version you are using
Random verse
For the grace of God which carries with it salvation for all men has appeared, teaching us that, having denied impiety and worldly lusts, we should live soberly, and justly, and piously in the present course of things, awaiting the blessed hope and appearing of the glory of our great God and Saviour Jesus Christ; who gave himself for us, that he might redeem us from all lawlessness, and purify to himself a peculiar people, zealous for good works. (Titus 2:11-14)