The German Luther Bible of 1912 has been updated.
The changes in this update from v.1.0 to v.1.1 include a complete revision to match the printed edition of this Bible. See below for the list of changes:

about 50 typos eliminated
more than 50 other dashes, spaces, etc., corrected
several hundred alternate verse numberings inserted
roughly 8000 replacements of inappropriate capitalizations
all quotation marks changed to German quotation marks
innumerable extra spaces removed
a handful of footnotes inserted

Back to News

101 More Hymn Stories
Get the story behind your favorite Hymns and their music score!
Stay tuned!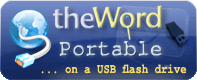 Useful links
Email updates
Enter your email to be notified for updates on program and modules
Is it safe to give you my email?
Latest version
The latest version of theWord is 5.0.0.1450.
Find out how you can check what version you are using
Random verse
Come to me, all ye who labour and are burdened, and *I* will give you rest. Take my yoke upon you, and learn from me; for I am meek and lowly in heart; and ye shall find rest to your souls; for my yoke is easy, and my burden is light. (Matthew 11:28-30)