The Romanian Orthodox Bible is now available.
This Bible is the official Bible of the Romanian Orthodox Church. It is also called the Bucharest Bible. You can download it at the downloads section of the website.
Back to News

Stay tuned!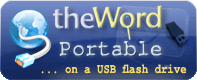 Useful links
Email updates
Enter your email to be notified for updates on program and modules
Is it safe to give you my email?
Latest version
The latest version of theWord is 5.0.0.1450.
Find out how you can check what version you are using
Random verse
And *we* have seen, and testify, that the Father has sent the Son [as] Saviour of the world. (1 John 4:14)