An updated Greek language translation for The Word is now available.
You can download it in the downloads section here.
Back to News

Eerdmans Dictionary of the Bible
Nearly
5,000 articles
written by
600 first-rate Bible authorities
thoroughly explaining books, persons, places and significant terms of the Bible
Stay tuned!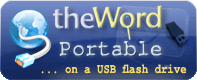 Useful links
Email updates
Enter your email to be notified for updates on program and modules
Is it safe to give you my email?
Latest version
The latest version of theWord is 5.0.0.1450.
Find out how you can check what version you are using
Random verse
And the Word became flesh, and dwelt among us (and we have contemplated his glory, a glory as of an only-begotten with a father), full of grace and truth; (John 1:14)