The Albanian Bible has been updated.
The list of changes in v.1.1 include:
Fixed a few versification problems
Fixed improper quotation marks
Updated About information
You can download the updated version from the Downloads section.
Back to News

Believer's Bible Commentary
Make Bible study a part of your daily life with the thorough yet easy-to-use Believer's Bible
Stay tuned!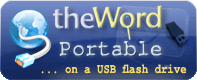 Useful links
Email updates
Enter your email to be notified for updates on program and modules
Is it safe to give you my email?
Latest version
The latest version of theWord is 5.0.0.1450.
Find out how you can check what version you are using
Random verse
God therefore, having overlooked the times of ignorance, now enjoins men that they shall all everywhere repent, because he has set a day in which he is going to judge the habitable earth in righteousness by [the] man whom he has appointed, giving the proof [of it] to all [in] having raised him from among [the] dead (Acts 17:30,31)