An updated Bulgarian translation is now available for The Word 3!
You can download it in the downloads section here.
Thursday, 05 November 2009
Back to News

The Bible Panorama (revised 2nd edition)
Surveying the scenery of Scripture; Each chapter of each book of the Bible plainly summarised and explained
Stay tuned!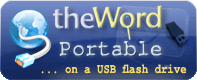 Useful links
Email updates
Enter your email to be notified for updates on program and modules
Is it safe to give you my email?
Latest version
The latest version of theWord is 5.0.0.1450.
Find out how you can check what version you are using
Random verse
I said therefore to you, that ye shall die in your sins; for unless ye shall believe that I am [he] , ye shall die in your sins. (John 8:24)