The Complete Sayings of Jesus
by Arthur Hinds is now available to download.
You can find it in the books section of the downloads page here.
Here is the description of the book:
"Like the Jefferson Bible, this is an attempt to edit the four gospels into a consistent account, in this case focusing on the words of Jesus. There is plenty of connecting narrative around the instances where Jesus speaks, so this is better than simply presenting each quote out of context. The focus on what Jesus is attributed as saying makes it easier to browse the core texts of the New Testament."

Back to News

Stay tuned!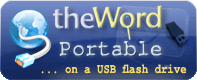 Useful links
Email updates
Enter your email to be notified for updates on program and modules
Is it safe to give you my email?
Latest version
The latest version of theWord is 5.0.0.1450.
Find out how you can check what version you are using
Random verse
But *ye* are not in flesh but in Spirit, if indeed God's Spirit dwell in you; but if any one has not [the] Spirit of Christ *he* is not of him: (Romans 8:3)