The Japanese Bible Society 1955 Edition of the Bible is now available for download.
This Bible is used by permission courtesy of the Japanese Bible Society. You may download this Bible at the Downloads section of the website.
Saturday, 14 November 2009
Back to News

New International Version 2011
Includes more than 110,000 cross-references, translator's notes, passage headings, parallel passages, word of Jesus in red, poetry and prose text indentation.
Stay tuned!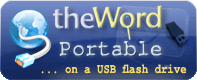 Useful links
Email updates
Enter your email to be notified for updates on program and modules
Is it safe to give you my email?
Latest version
The latest version of theWord is 5.0.0.1450.
Find out how you can check what version you are using
Random verse
Verily, verily, I say unto you, that he that hears my word, and believes him that has sent me, has life eternal, and does not come into judgment, but is passed out of death into life. (John 5:24)