The Namen des Ewigen German dictionary module by Abraham Meister is now available.
Descriptions of this module:
Deutsch: In jahrzehntelanger Arbeit hat der Autor dieses meisterhafte Nachschlagewerk geschaffen. Sämtliche Namen Gottes, Jesu und des Heiligen Geistes sind alphabetisch geordnet und erklärt.
English: Through decades of labor, the author has created this masterful reference work. All the Names of God, Jesus, and Holy Spirit are listed alphabetically and explained.
You can download this module at the Downloads section.
Saturday, 14 November 2009
Back to News

Stay tuned!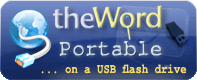 Useful links
Email updates
Enter your email to be notified for updates on program and modules
Is it safe to give you my email?
Latest version
The latest version of theWord is 5.0.0.1450.
Find out how you can check what version you are using
Random verse
He says to them, But *ye*, who do ye say that I am? And Simon Peter answering said, *Thou* art the Christ, the Son of the living God. (Matthew 16:15,16)