A major new version of The Word is now available with significant new features and several fixes.

Major new features include a Graphics viewer, better image handling, extended support for displaying and searching original language Bible texts (including new advanced morphological searches) and refined new look with sharper and more descriptive icons. See the full list of new features here.
Back to News

Amplified Bible
Formal equivalence (word for word); Includes more than 6000 cross-references, footnotes, red letters, 14 colored maps.
Stay tuned!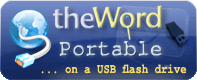 Useful links
Email updates
Enter your email to be notified for updates on program and modules
Is it safe to give you my email?
Latest version
The latest version of theWord is 5.0.0.1450.
Find out how you can check what version you are using
Random verse
But *ye* are not in flesh but in Spirit, if indeed God's Spirit dwell in you; but if any one has not [the] Spirit of Christ *he* is not of him: (Romans 8:3)