This is the Groves-Wheeler Westminster Leningrad Codex (WLC) with full parsing information.
The complete text of the Hebrew Bible with the Groves-Wheeler Westminster Hebrew Morphology (version 4.12). Includes vowels, cantillation marks, lemmas and full grammatical analysis for each word. Get it here.
Back to News

New International Version 2011
Includes more than 110,000 cross-references, translator's notes, passage headings, parallel passages, word of Jesus in red, poetry and prose text indentation.
Stay tuned!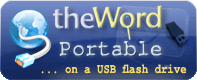 Useful links
Email updates
Enter your email to be notified for updates on program and modules
Is it safe to give you my email?
Latest version
The latest version of theWord is 5.0.0.1450.
Find out how you can check what version you are using
Random verse
God therefore, having overlooked the times of ignorance, now enjoins men that they shall all everywhere repent, because he has set a day in which he is going to judge the habitable earth in righteousness by [the] man whom he has appointed, giving the proof [of it] to all [in] having raised him from among [the] dead (Acts 17:30,31)