The official manual of theWord is now available for download! Version 3.1.2 is also available.
You can download the manual or view it online from the Online Help section. The manual is now included in the official English package, yet if you just upgrade you will need to download it separately.

The new version 3.1.2 is also available that mostly brings bug fixes. You can check the change-log to see what's new/fixed.

Back to News

New International Version 2011
Includes more than 110,000 cross-references, translator's notes, passage headings, parallel passages, word of Jesus in red, poetry and prose text indentation.
Stay tuned!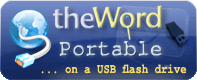 Useful links
Email updates
Enter your email to be notified for updates on program and modules
Is it safe to give you my email?
Latest version
The latest version of theWord is 5.0.0.1450.
Find out how you can check what version you are using
Random verse
And salvation is in none other, for neither is there another name under heaven which is given among men by which we must be saved. (Acts 4:12)