The Amplified Bible from Lockman foundation and Zondervan is now available for theWord. Also a set of high quality, high resolution maps from American Bible Society
Read more about the two new module and see samples:
Back to News

IVP Bible Background Commentary, New Testament
Voted one of Christianity Today's 1995 Books of the Year!
Stay tuned!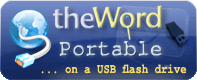 Useful links
Email updates
Enter your email to be notified for updates on program and modules
Is it safe to give you my email?
Latest version
The latest version of theWord is 5.0.0.1450.
Find out how you can check what version you are using
Random verse
I am the vine, ye [are] the branches. He that abides in me and I in him, *he* bears much fruit; for without me ye can do nothing. (John 15:5)