An unabridged original study of systematic theology from a biblical viewpoint. Includes all eight volumes.
Written by Lewis Sperry Chafer, the founding president of Dallas Theological Seminary and long-time editor of Bibliotheca Sacra, this is the first dispensational, premillenial systematic theology ever published. It is a complete, unabridged systematic theology meaning it covers a lot of ground that many earlier theologies did not, such as ecclesiology (e.g., the doctrine of the universal church, the church's rule of life), angelology (e.g., the relationship between Satan and sin), and typology. This is truly one of the heavyweight works of the evangelical movement, very much in demand today.

Read more information and see samples from the product page

Back to News

Stay tuned!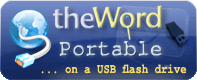 Useful links
Email updates
Enter your email to be notified for updates on program and modules
Is it safe to give you my email?
Latest version
The latest version of theWord is 5.0.0.1450.
Find out how you can check what version you are using
Random verse
And he rose up and went to his own father. But while he was yet a long way off, his father saw him, and was moved with compassion, and ran, and fell upon his neck, and covered him with kisses. (Luke 15:20)