The Holy Bible Containing the Old and New Testaments; Translated Literally From The Original Tongues by Julia E. Smith.
Back to News

Stay tuned!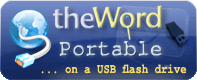 Useful links
Email updates
Enter your email to be notified for updates on program and modules
Is it safe to give you my email?
Latest version
The latest version of theWord is 6.0.0.1527.
Find out how you can check what version you are using
Random verse
For let this mind be in you which [was] also in Christ Jesus; who, subsisting in the form of God, did not esteem it an object of rapine to be on an equality with God; but emptied himself, taking a bondman's form, taking his place in [the] likeness of men; and having been found in figure as a man, humbled himself, becoming obedient even unto death, and [that the] death of [the] cross (Philippians 2:5-8)