The Holy Bible Containing the Old and New Testaments; Translated Literally From The Original Tongues by Julia E. Smith.
Back to News

The New King James Bible
Includes footnotes, cross-references, red letters, OT quotes, passage headings, paragraphs and poetry formatting!
Stay tuned!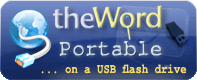 Useful links
Email updates
Enter your email to be notified for updates on program and modules
Is it safe to give you my email?
Latest version
The latest version of theWord is 5.0.0.1450.
Find out how you can check what version you are using
Random verse
Jesus says to him, I am the way, and the truth, and the life. No one comes to the Father unless by me. (John 14:6)