David Guzik's commentary on the whole Bible, The Writings of H. Smith, The Writings of J.G.Bellett are now available for theWord.
Download these modules from the module library page

Back to News

Stay tuned!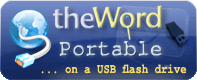 Useful links
Email updates
Enter your email to be notified for updates on program and modules
Is it safe to give you my email?
Latest version
The latest version of theWord is 5.0.0.1450.
Find out how you can check what version you are using
Random verse
Herein as to us has been manifested the love of God, that God has sent his only begotten Son into the world, that we might live through him. Herein is love, not that we loved God, but that he loved us, and sent his Son a propitiation for our sins. (I John 4:9,10)