'The Message' Bible from Eugene Peterson is now available for theWord
Many people assume that a book about a holy God should sound elevated, stately, and ceremonial. If this is how you've always viewed the Bible, you're about to make a surprising discovery. The Message brings the life-changing power of the New Testament, the vibrant passion of the Psalms, and the rich, practical wisdom of Proverbs into easy-to-read modern language that echoes the rhythm and idioms of the original Greek and Hebrew.
Back to News

Stay tuned!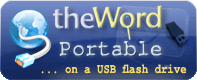 Useful links
Email updates
Enter your email to be notified for updates on program and modules
Is it safe to give you my email?
Latest version
The latest version of theWord is 5.0.0.1450.
Find out how you can check what version you are using
Random verse
Jesus said to her, I am the resurrection and the life: he that believes on me, though he have died, shall live; (John 11:25)