Almost 4 years after the release of version 2, the new version 3 is here. And it's more than an upgrade...
The Word 3 (TW3) is here at last. The new site is also here to host the software and all the resources that accompany it. There are few things to write here, since the new site is all about it.
There are still some things to be done for the new site, and the help file is still under construction. Also, many modules are still under development and will be released by time.
The Word 3 has been tested and debugged for very long time by many users, and this release should be really stable.
God has made it possible to provide this software for free and it is my earnest wish that many people will be blessed by it!
Enjoy

Back to News

Stay tuned!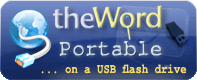 Useful links
Email updates
Enter your email to be notified for updates on program and modules
Is it safe to give you my email?
Latest version
The latest version of theWord is 5.0.0.1450.
Find out how you can check what version you are using
Random verse
but God, being rich in mercy, because of his great love wherewith he loved us, (we too being dead in offences,) has quickened us with the Christ, (ye are saved by grace,) and has raised [us] up together, and has made [us] sit down together in the heavenlies in Christ Jesus; (Ephesians 2:4-6)