Amplified Bible
Formal equivalence (word for word); Includes more than 6000 cross-references, footnotes, red letters, 14 colored maps.
Stay tuned!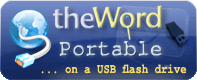 Useful links
Email updates
Enter your email to be notified for updates on program and modules
Is it safe to give you my email?
Latest version
The latest version of theWord is 5.0.0.1450.
Find out how you can check what version you are using
Random verse
Faithful [is] the word, and worthy of all acceptation, that Christ Jesus came into the world to save sinners (1 Timothy 1:15)