The HCSB is now available for free for theWord!
We are very happy to announce the availability of the HCSB for theWord software! We believe that theWord is the only software that offers this English translation for free!
As always, the electronic edition for theWord includes all the features of the printed edition including:
Red Letters
Cross references
Passage Headings
Paragraph and poetry indentation
Footnotes
Bullet notes of printed edition accessible as special footnotes
Download it now
!
Saturday, 30 October 2010
Back to News

New International Version 2011
Includes more than 110,000 cross-references, translator's notes, passage headings, parallel passages, word of Jesus in red, poetry and prose text indentation.
Stay tuned!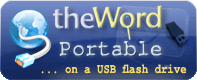 Useful links
Email updates
Enter your email to be notified for updates on program and modules
Is it safe to give you my email?
Latest version
The latest version of theWord is 5.0.0.1450.
Find out how you can check what version you are using
Random verse
My sheep hear my voice, and I know them, and they follow me; and I give them life eternal; and they shall never perish, and no one shall seize them out of my hand. My Father who has given [them] to me is greater than all, and no one can seize out of the hand of my Father. (John 10:27-29)