theword.net
is now the official domain of theWord Bible Software
theWord Bible Software official site is now running under the new domain theword.net. The old domain theword.gr as well as all related emails @theword.gr are still active, and will continue to work along with the new ones.
If you have links to your personal blog/site/forum that point to the old domain theword.gr you should update them to point to the new domain theword.net. This change only affect the Top Level domain (e.g. .gr changed to .net); this means that changes to links should be made only to this part of the URL (e.g http://www.theword.gr/index.php should change to http://www.theword.net/index.php)
Tuesday, 16 November 2010
Back to News

Theological Wordbook of the Old Testament
Extensive, scholarly discussion of every Hebrew word of theological significance in the Old Testament. Keyed to Strong's Concordance.
Stay tuned!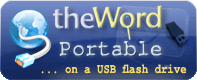 Useful links
Email updates
Enter your email to be notified for updates on program and modules
Is it safe to give you my email?
Latest version
The latest version of theWord is 5.0.0.1450.
Find out how you can check what version you are using
Random verse
My sheep hear my voice, and I know them, and they follow me; and I give them life eternal; and they shall never perish, and no one shall seize them out of my hand. My Father who has given [them] to me is greater than all, and no one can seize out of the hand of my Father. (John 10:27-29)