A new, critically edited Greek New Testament from Logos Bible Software and the Society of Biblical Literature is available for immediate download.
The SBL Greek New Testament (SBLGNT) is a new edition of the Greek New Testament, established with the help of earlier editions. In particular, four editions of the Greek New Testament were utilized as primary resources in the process of establishing the SBLGNT. These editions (and their abbreviations) are: WH, Treg, NIV, RP
The starting point for the SBLGNT was the edition of Westcott and Hort. First, the WH text was modified to match the orthographic standards of the SBLGNT (described below). Next, the modified version was compared to the other three primary editions (Treg, NIV, and RP) in order to identify points of agreement and disagreement between them. Where all four editions agreed, the text was tentatively accepted as the text of the SBL edition; points of disagreement were marked for further consideration. The editor then worked systematically through the entire text, giving particular attention to the points of disagreement but examining as well the text where all four editions were in agreement. Where there was disagreement among the four editions, the editor determined which variant to print as the text; occasionally a reading not found in any of the four editions commended itself as the most probable representative of the text and therefore was adopted. Similarly, where all four texts were in agreement, the editor determined whether to accept that reading or to adopt an alternative variant as the text. In this manner, the text of the SBLGNT was established.
More info at sblgnt.com
Wednesday, 01 December 2010
Back to News

Stay tuned!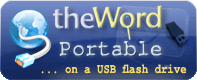 Useful links
Email updates
Enter your email to be notified for updates on program and modules
Is it safe to give you my email?
Latest version
The latest version of theWord is 5.0.0.1450.
Find out how you can check what version you are using
Random verse
On the morrow he sees Jesus coming to him, and says, Behold the Lamb of God, who takes away the sin of the world. (John 1:29)