The New Living Translation, second edition (NLT) from Tyndale Publishers is now available for theWord
The Holy Bible, New Living Translation provides a wonderful balance of readability and authority. It is easy to understand, poetically beautiful, powerful, and emotive. At the same time, due to the careful work of ninety leading Bible scholars, it is accurate to the original Greek and Hebrew text. The New Living Translation makes the Bible accessible, useful, and enjoyable for every situation. The easy-to-read, clear text is perfect for comparative study of difficult passages.
Back to News

Stay tuned!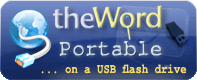 Useful links
Email updates
Enter your email to be notified for updates on program and modules
Is it safe to give you my email?
Latest version
The latest version of theWord is 5.0.0.1450.
Find out how you can check what version you are using
Random verse
For God is one, and [the] mediator of God and men one, [the] man Christ Jesus, who gave himself a ransom for all, the testimony [to be rendered] in its own times; (1 Timothy 2:5,6)