The Spanish Reina Valera 1960 Bible translation is now available for theWord.
Most Spanish speaking Christians rely on one version of the Bible, the Reina-Valera, which was first published in 1569, forty-two years before the King James Version. In 1960, the British and Foreign Bible Society and the American Bible Society jointly published the popular revision of the Version Reina-Valera. This version has been the basic text of the Spanish Protestant Church for generations. It is the most beloved translation of Spanish speaking Christians because it retains the traditional style of the Spanish language.
Back to News

Maps of Bible Lands
Sixteen full color, detailed, high resolution maps of Bible lands.
Stay tuned!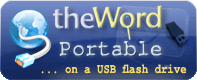 Useful links
Email updates
Enter your email to be notified for updates on program and modules
Is it safe to give you my email?
Latest version
The latest version of theWord is 5.0.0.1450.
Find out how you can check what version you are using
Random verse
He says to them, But *ye*, who do ye say that I am? And Simon Peter answering said, *Thou* art the Christ, the Son of the living God. (Matthew 16:15,16)