Two excellent commentaries on the OT and NT are now available for theWord, along with Hole's misc writings Library.
Ironside's commentary includes notes on the whole NT and most of the OT.
F.B. Hole's works are separated in:
- a commentary on the NT and several OT books
- a Library Book module that includes more than 200 articles and several booklets.
You may download the commentaries of Ironside and Hole from the commentaries section and Hole's Library collection from the books section.
Back to News

Believer's Bible Commentary
Make Bible study a part of your daily life with the thorough yet easy-to-use Believer's Bible
Stay tuned!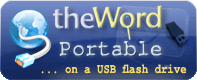 Useful links
Email updates
Enter your email to be notified for updates on program and modules
Is it safe to give you my email?
Latest version
The latest version of theWord is 5.0.0.1450.
Find out how you can check what version you are using
Random verse
And salvation is in none other, for neither is there another name under heaven which is given among men by which we must be saved. (Acts 4:12)