The GNT (also known as
Today's English Version
or
Good News Bible
) was one of the first meaning-based (or functional equivalent) translations of the Bible into English.
A very contemporary translation that is designed to be easy to read for those who are not familiar with the Bible. Also known as the Good News Bible, this translation of the Bible follows a dynamic equivalence theory of translation. Published in 1966, revised in 1992.
Back to News

Stay tuned!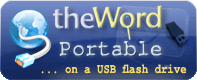 Useful links
Email updates
Enter your email to be notified for updates on program and modules
Is it safe to give you my email?
Latest version
The latest version of theWord is 5.0.0.1450.
Find out how you can check what version you are using
Random verse
I am the living bread which has come down out of heaven: if any one shall have eaten of this bread he shall live for ever; but the bread withal which I shall give is my flesh, which I will give for the life of the world. (John 6:51)