GOD'S WORD
Translation (GW) accurately translates the meaning of the original texts into clear, everyday language. Readable and reliable, GW is living, active, and life-changing.
GW was translated by a committee of biblical scholars and English reviewers to ensure accurate, natural English that preserves the styles of the biblical writers.
The GW translation team weighed the various factors that affect readability as they produced the translation. The readability of GW is not an accident. It is the result of the team's careful use of readability principles.
Back to News

Stay tuned!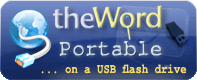 Useful links
Email updates
Enter your email to be notified for updates on program and modules
Is it safe to give you my email?
Latest version
The latest version of theWord is 5.0.0.1450.
Find out how you can check what version you are using
Random verse
I am the vine, ye [are] the branches. He that abides in me and I in him, *he* bears much fruit; for without me ye can do nothing. (John 15:5)