The
New International Version 2011
edition is now available for theWord.
Read more about the NIV 2011 at the product page.
If you own a copy of the 1984 of the NIV for theWord, you can get the new edition with a 40% discount.
The new version 2011 will not replace the old 1984 version, so you can have both side by side to compare the texts if you wish.
Back to News

The Bible Panorama (revised 2nd edition)
Surveying the scenery of Scripture; Each chapter of each book of the Bible plainly summarised and explained
Stay tuned!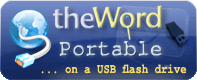 Useful links
Email updates
Enter your email to be notified for updates on program and modules
Is it safe to give you my email?
Latest version
The latest version of theWord is 5.0.0.1450.
Find out how you can check what version you are using
Random verse
For ye are saved by grace, through faith; and this not of yourselves; it is God's gift: not on the principle of works, that no one might boast. (Ephesians 2:8,9)