BDAG
-
A Greek-English Lexicon of the New Testament and Other Early Christian Literature, 3rd edition
is now available for theWord. This is the Standard for Lexicon for Bible Colleges and Seminaries for Greek classes.
Described as an "invaluable reference work" (Classical Philology) and "a tool indispensable for the study of early Christian literature" (Religious Studies Review) in its previous edition, this new updated American edition of Walter Bauer's Wörterbuch zu den Schriften des Neuen Testaments builds on its predecessor's staggering deposit of extraordinary erudition relating to Greek literature from all periods. Including entries for many more words, the new edition also lists more than 25,000 additional references to classical, intertestamental, Early Christian, and modern literature.
Read more at the product page.

Back to News

Stay tuned!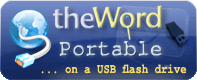 Useful links
Email updates
Enter your email to be notified for updates on program and modules
Is it safe to give you my email?
Latest version
The latest version of theWord is 5.0.0.1450.
Find out how you can check what version you are using
Random verse
I am the vine, ye [are] the branches. He that abides in me and I in him, *he* bears much fruit; for without me ye can do nothing. (John 15:5)