The International Standard Version is now available for theWord in 2 editions, a free version and a premium one for a fee.
The ISV is a totally new work translated directly from the original languages of Scripture and derived from no other English translation. It is available for theWord in two versions:
• a free version that lacks the numerous footnotes (contains only a very small subset suitable for evaluation purposes
• a premium version with the complete set of foonotes.
You can visit the product page to read more about the ISV.
Back to News

Stay tuned!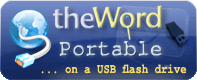 Useful links
Email updates
Enter your email to be notified for updates on program and modules
Is it safe to give you my email?
Latest version
The latest version of theWord is 5.0.0.1450.
Find out how you can check what version you are using
Random verse
I am the vine, ye [are] the branches. He that abides in me and I in him, *he* bears much fruit; for without me ye can do nothing. (John 15:5)