This is the Greek text, sometimes referred to as the "critical text tradition" (UBS). It is the most widely used critical version of the Greek New Testament.
The UBS4 module includes Strong's numbers and Morpohology codes as well as Passage headings and parallel passages. For those that already own the NA27, there is a 40% discount for this version.
Read more at the product page.
Back to News

Stay tuned!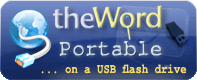 Useful links
Email updates
Enter your email to be notified for updates on program and modules
Is it safe to give you my email?
Latest version
The latest version of theWord is 5.0.0.1450.
Find out how you can check what version you are using
Random verse
And salvation is in none other, for neither is there another name under heaven which is given among men by which we must be saved. (Acts 4:12)