Clarity Trumpet series from Clarity Ministries International has been compiled and released.
The series, written by R. Seymour, includes brief articles about important Christian doctrines and issues. You can find a list of topics included in the information tag in the downloads section by clicking on the "i" icon.
Monday, 05 September 2011
Back to News

Stay tuned!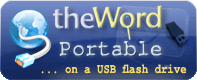 Useful links
Email updates
Enter your email to be notified for updates on program and modules
Is it safe to give you my email?
Latest version
The latest version of theWord is 5.0.0.1450.
Find out how you can check what version you are using
Random verse
Again therefore Jesus spoke to them, saying, I am the light of the world; he that follows me shall not walk in darkness, but shall have the light of life. (John 8:12)