This is the Updated King James Version (UKJV) which started with the KJV Authorized Version and updated most of the old-English vocabulary to modern English equivalents while maintaining the original doctrine.
Visit the downloads section to get it.
Wednesday, 14 September 2011
Back to News

Stay tuned!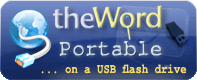 Useful links
Email updates
Enter your email to be notified for updates on program and modules
Is it safe to give you my email?
Latest version
The latest version of theWord is 5.0.0.1450.
Find out how you can check what version you are using
Random verse
My sheep hear my voice, and I know them, and they follow me; and I give them life eternal; and they shall never perish, and no one shall seize them out of my hand. My Father who has given [them] to me is greater than all, and no one can seize out of the hand of my Father. (John 10:27-29)