An accurate, readable and helpful A to Z of almost 1000 entries that cover all the major areas of biblical knowledge.
Topics covered:
- Theological issues and Christian doctrines
- Life and ministry of Jesus Christ
- Salvation and Christian life
- Church and mission
- Christian ethics
- Cultures, customs and religions
- Books of the Bible
- Historical studies of nations and peoples
- Environmental features of Bible lands
- Characters of the Bible
- Maps, charts, line drawings and tables
Visit the downloads section to get it.
Thursday, 29 September 2011
Back to News

Stay tuned!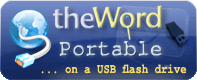 Useful links
Email updates
Enter your email to be notified for updates on program and modules
Is it safe to give you my email?
Latest version
The latest version of theWord is 5.0.0.1450.
Find out how you can check what version you are using
Random verse
Again therefore Jesus spoke to them, saying, I am the light of the world; he that follows me shall not walk in darkness, but shall have the light of life. (John 8:12)