101 More Hymn Stories
Get the story behind your favorite Hymns and their music score!
Stay tuned!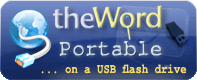 Useful links
Email updates
Enter your email to be notified for updates on program and modules
Is it safe to give you my email?
Latest version
The latest version of theWord is 5.0.0.1450.
Find out how you can check what version you are using
Random verse
On the morrow he sees Jesus coming to him, and says, Behold the Lamb of God, who takes away the sin of the world. (John 1:29)