"A running explanation of the biblical text for the people of today's world".
The Bridgeway Bible Commentary deals with each biblical book in such a way that readers readily see the meaning of the Bible in its own context and its relevance in today's world. The book is neither a word-by-word technical reference work nor a mere collection of overviews. It provides a free-flowing commentary on the entire text of each biblical book, along with background material, maps, diagrams, drawings, tables and feature articles.
Get it for free from the Commentaries download page.
Back to News

New International Version 2011
Includes more than 110,000 cross-references, translator's notes, passage headings, parallel passages, word of Jesus in red, poetry and prose text indentation.
Stay tuned!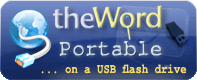 Useful links
Email updates
Enter your email to be notified for updates on program and modules
Is it safe to give you my email?
Latest version
The latest version of theWord is 5.0.0.1450.
Find out how you can check what version you are using
Random verse
He says to them, But *ye*, who do ye say that I am? And Simon Peter answering said, *Thou* art the Christ, the Son of the living God. (Matthew 16:15,16)