The 2011 update of the popular English Standard Version is now available for free for theWord!
The ESV® Bible (English Standard Version®) is an "essentially literal" translation of the Bible in contemporary English. The ESV Bible emphasizes "word-for-word" accuracy, literary excellence, and depth of meaning. The ESV is ideally suited for personal reading, for public worship, for in-depth study, and for Scripture memorization. The ESV Bible is available in more than 200 print editions, and it is free online anytime everywhere in the world.
The ESV Bible was created by a team of more than 100 leading evangelical scholars and pastors. Since its publication in 2001, the ESV has gained wide acceptance and is used and trusted by church leaders, numerous denominations, and millions of individuals around the world.
Download it for free from the Bibles download area.
Thursday, 10 November 2011
Back to News

Stay tuned!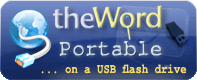 Useful links
Email updates
Enter your email to be notified for updates on program and modules
Is it safe to give you my email?
Latest version
The latest version of theWord is 5.0.0.1450.
Find out how you can check what version you are using
Random verse
And he rose up and went to his own father. But while he was yet a long way off, his father saw him, and was moved with compassion, and ran, and fell upon his neck, and covered him with kisses. (Luke 15:20)