This classic Spanish Bible, including Strong's numbers, is now available as a free module for The Word.
Reina-Valera 1909 is a formal translation of the Hebrew Masoretic text and the Greek Textus Receptus, that is, the Hebrew and Greek traditional texts. The digital edition has been proof-read to make it conform to the printed version, and now includes Strong's numbers!
Download it for free from the Bibles download area.

Thursday, 24 November 2011
Back to News

Stay tuned!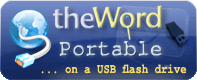 Useful links
Email updates
Enter your email to be notified for updates on program and modules
Is it safe to give you my email?
Latest version
The latest version of theWord is 6.0.1.1533.
Find out how you can check what version you are using
Random verse
I say unto you, that thus there shall be joy in heaven for one repenting sinner, [more] than for ninety and nine righteous who have no need of repentance. (Luke 15:7)