The
IVP Bible Background Commentary Old Testament
and
IVP Bible Background Commentary New Testament
are now available for theWord.
These excellent commentaries provide historical, social and cultural background for each passage of the Old and New Testament. From Genesis through Revelation, these volumes gather and condense an abundance of specialized knowledge--making it available and accessible to ordinary readers of the Bible.
Read more and see samples at the product pages:
• IVP Bible Background Commentary Old Testament
• IVP Bible Background Commentary New Testament
Thursday, 22 December 2011
Back to News

New International Version 2011
Includes more than 110,000 cross-references, translator's notes, passage headings, parallel passages, word of Jesus in red, poetry and prose text indentation.
Stay tuned!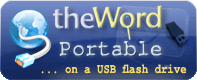 Useful links
Email updates
Enter your email to be notified for updates on program and modules
Is it safe to give you my email?
Latest version
The latest version of theWord is 5.0.0.1450.
Find out how you can check what version you are using
Random verse
but God, being rich in mercy, because of his great love wherewith he loved us, (we too being dead in offences,) has quickened us with the Christ, (ye are saved by grace,) and has raised [us] up together, and has made [us] sit down together in the heavenlies in Christ Jesus; (Ephesians 2:4-6)