The Chinese King James Version is available for free for theWord.
You may download both the Simplified and Traditional version from the Bible modules page.
Back to News

101 More Hymn Stories
Get the story behind your favorite Hymns and their music score!
Stay tuned!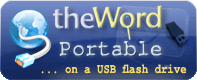 Useful links
Email updates
Enter your email to be notified for updates on program and modules
Is it safe to give you my email?
Latest version
The latest version of theWord is 5.0.0.1450.
Find out how you can check what version you are using
Random verse
Again therefore Jesus spoke to them, saying, I am the light of the world; he that follows me shall not walk in darkness, but shall have the light of life. (John 8:12)